Two New Enhancements
Wednesday, May 20, 2009
We have been working in the background strengthening and enhancing the application for even more convenience.
Recently we've rolled out two enhancements we thought it is worth mentioning.
Specify A Download Link To Your Invoice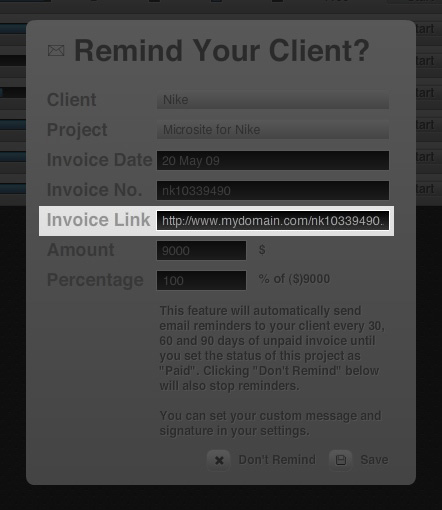 When you set a project as invoiced and set an automatic late invoice reminder, you can optionally enter a download link for your invoice. Every 30, 60 and 90 days when the system sends late invoice reminders to your clients, the link to the invoice will also be included in the reminder email sent to your clients. This skips the annoying step where your client might ask you to send them the invoice again as they'll be able to download your invoice straight from the link.
Most freelancers host their own websites which in turn have abundant space to store files other than their website. If you do not have a server space you can easily upload your invoice at the popular DropBox. Any file you upload to your DropBox account will generate a link for you to download it which you can in turn use it for this feature.
Enter Dates Using Human Language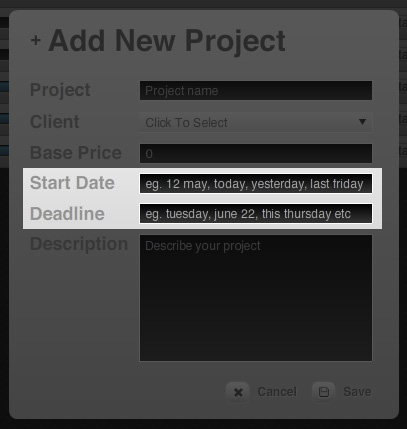 You can now enter dates more quickly by specifying dates in human language. Eg. today, tomorrow, next week, monday, this friday, 29 May, 2 weeks ago, last month etc.
Below is a list of examples of "human language" date definition:
now
today
tomorrow
yesterday
thursday
this thursday
last thursday
-1 month
-3 weeks
+2 years
+1 year -1 month
last month
last year
2 weeks ago
5 days ago
29 may
may 29
05/29/09
05/29