Options To Turn SSL On Or Off
Wednesday, June 2, 2010
Previously, we begin supporting SSL encryption for your data, but there was no way to turn this on or off. If you missed the announcement, or don't know what SSL is, read this post.
Now you can have the options to enable or disable SSL.
Why?
Why the option? Because when you enable SSL, your interaction between SUBERNOVA and your internet connection is secure, but the down side is that the whole experience could be a little slower. What if you want a faster connection because you're at home and not using a public computer? You can disable SSL. If you're at work, or using a public connection, enable SSL for better security.
Where and How?
When you go to Settings > Others, you will see SSL Encryption settings checkboxes for the iPhone and the AIR app. Why no checkbox for the web app? Because you can easily turn SSL on when using the web app by inserting an "s" at the end of "http", for example – "https://app.subernova.com".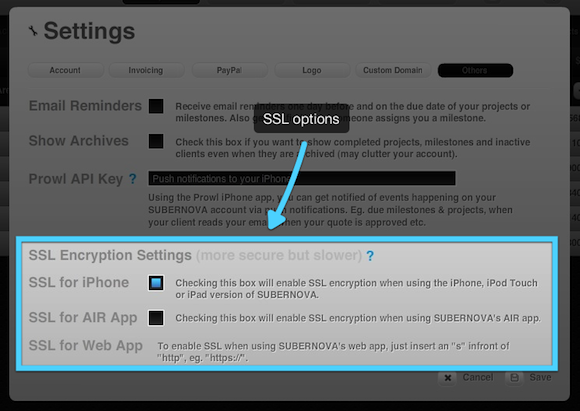 For the iPhone and the AIR app, checking the checkboxes and means that when you use the iPhone or the AIR app, SUBERNOVA will make all connections using SSL, ensuring security between data transfers.
The choice is yours. :)