Refinements & Improvements
Monday, June 21, 2010
We spent the bulk of our time working on improving the app, eg. enabling SSL, improving scrolling, letting you create a client in project creation window, squashed a couple of bugs and completely rewritten the front end code of the iPhone app using jQTouch.
Data Security with SSL
We've added SSL security to SUBERNOVA. The chances of a third party eavesdropping on your data when they're being transferred to and from our server is reduced to zero.
SSL is optional, if you favor security over speed, just insert the letter "s" infront of "http" the next time you use the web app, eg. https://app.subernova.com.
You can also turn on SSL for the AIR and iPhone app by going into Settings > Others and checking the appropriate checkboxes.
To understand more about SSL on SUBERNOVA, read this post.
Improved Scrolling
If you have lots of data in your account, you may have some difficulty scrolling up and down previously. Not anymore, we've improved scrolling such that the content will only scroll when your mouse hits the top or bottom of the content.
Create New Client In Project Creation Window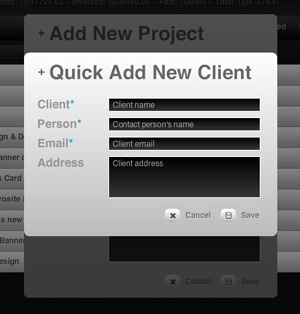 Previously, you needed to go to "Clients" section to create a client first before you can create a project.
Now, you can create a new client in the project creation modal window itself without breaking your workflow.
iPhone App In jQTouch Framework!

We completely rewrote the front end code of the iPhone app in jQTouch! The app now loads and feels snappier thanks to JQuery and AJAX.
You'll also see beautiful native like animations when you go from page to page.
View a video demonstrating the app.
Run SUBERNOVA On Any Site
Do you know you can run SUBERNOVA on any site? This is useful when you're doing research and you want to save the page's link, but don't want to leave the current page you're on. Just hit the bookmarklet and SUBERNOVA will load in that page, you're now ready to add a new link to your account.
For instructions, visit this page.
How SUBERNOVA Started
Curious about how SUBERNOVA started? We wrote a post on the problems we encountered when administrating our business. You may be able to relate these problems to yourself and learn more about why SUBERNOVA is essential to your business.
SUBERNOVA Scored 9/10 On Web.Appstorm's Review

Recently, we submitted SUBERNOVA to Web.Appstorm's Quicklook.
81.4% of Web.Appstorm readers voted for SUBERNOVA to be reviewed on Web.Appstorm.
Thanks to their readers and many of you who participated in the vote, SUBERNOVA was reviewed on Web.Appstorm and scored a whopping 9 upon 10!