New Milestone Timers and more!
Friday, January 13, 2012
Milestone Timers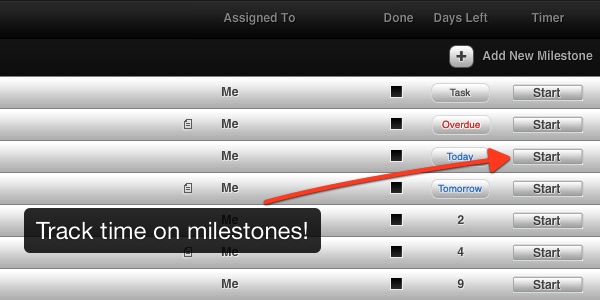 Being able to track time on milestones has been the most requested feature. Just like projects, you can now track time on milestones and tasks!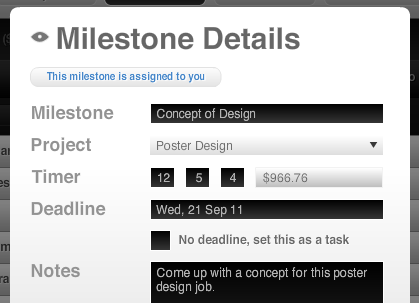 You can also edit the timer manually by launching the milestone editing window.
On the right side of the Timer fields, your total earnings will be displayed. This is a multiplication of your hourly rate by the total time spent on this milestone.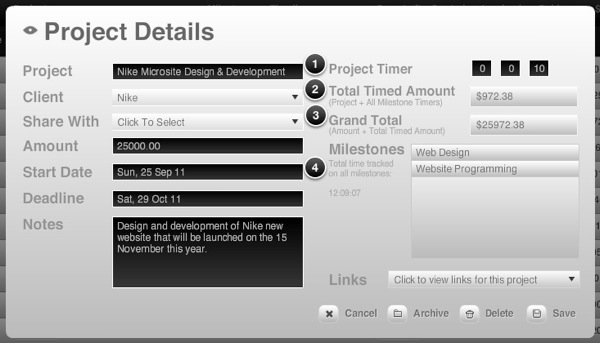 The project editing window went through some changes as well.
Project Timer: This remains unchanged. The project's timer is independent of its milestone timers. If you've been using the project timer all these while, you can continue doing so without changing any habits.
Total Timed Amount: This amount is calculated by adding the project's timer values to the total time tracked on all milestones.
Grand Total: This figure is based on the calculation of Amount (the amount displayed on the left of the modal window) + Total Timed Amount
Total time tracked on all milestones: This is the total time you've tracked on all milestones associated to this project
2. Adding Multiple Clients

Previously, if you add multiple clients of different contacts but with the same company's name, there is no way to tell which is which when selecting a client from a drop down menu. We solved this problem by adding the person's initials beside the company's name.
3. Increased Legibility of White on Black Texts

We've adjusted all fonts for better readability when they are white on black, especially on form fields.
We hope this small adjustment provides you with a better reading experience.
That's all for now, hope you enjoy this update!